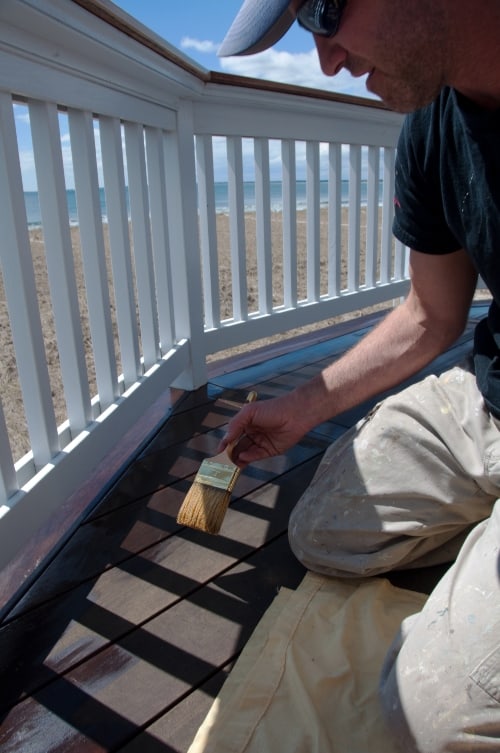 There are many exceptional waterfront properties in Central New Jersey. Keeping your oceanfront home or lakefront home in tip top condition is imperative whether you are new to the property or looking to sell. Keeping your property clean and dry is key. Here are some important maintenance tips for your waterfront home to help avoid costly repairs and maintain value.
Lakefront Home Maintenance
Dock: With care and proper maintenance a wooden dock will last 20-25 years. Examine the wood regularly and make repairs when needed. Cleaning and power-washing your deck will keep microorganisms and mildew at bay while removing mud and soil. Some homeowners choose to seal their docks to help protect them from rotting. You will need to reseal the dock regularly for the best possible results.
Roof: Lakefront homes are often subject to dramatic weather. High winds and precipitation can take their toll on the roof. You will want to keep an eye on the condition of your roof and make periodic repairs. A couple of missing shingles can turn into a major problem for the home, letting water in and causing mold and structural damage.
Moisture: High levels of moisture are typical in lakefront homes. You will want to check your home's moisture levels to keep mold from forming. Keep the humidity at a respectable level by using a dedicated dehumidifier. Keeping doors open in the rooms of your house will help to maintain airflow and ventilation. If you will be out of the home for a length of time open your closet doors, cabinet doors, and interior rooms.
Retainer Wall: The retainer wall is there to protect the property from erosion, maintain water depth and give the property a finished look. Fortunately, retainer walls generally require very little upkeep. Concrete will last around 30 years and steel will last around 25 years. Nevertheless, you will want to make regular inspections and spot problems before major issues occur. Be on the lookout for sinkholes and cracks on newly installed walls and other defects on older walls.
Oceanfront Home Maintenance
Monthly Cleaning: The ocean air is harsh on homes. You will need to wipe the surfaces down inside and outside of your home once a month and pressure wash exterior surfaces quarterly to remove salt and dirt.
Roof: Oceanfront homes are subject to severe weather. The roof of your home will be bracing against very harsh conditions. It is important to understand your roofing material. Generally, the more expensive coastal roofing options require less maintenance than less expensive roofs. You will want to make an inspection in the fall and spring and make any needed repairs.
HVAC: You will need to change your HVAC filters every month in an oceanfront home. The filters keep the damaging effects of the saltwater air from the metal components of the system. You will need a yearly inspection and maintenance performed by an HVAC professional.
Moisture: New Jersey ocean homes can quickly reach levels of 70-80%. Mold enjoys that type of moisture. If the air conditioning in your HVAC system doesn't bring the levels below 60% you will likely need a WHD unit (whole house dehumidifier) to keep humidity in check and hold the mold at bay. The optimum indoor relative humidity is between 30-50% according to the United States Environmental Protection Agency. The EPA suggests purchasing a humidity meter at your local hardware store for $10-$50. It is important to know the moisture present in your oceanfront home and mitigate small problems before they become big problems. Knowledge is power and available for $10-$50. That's a bargain.
Exterior Caulking: You will need to keep an eye on all the exterior caulking around windows and doors and thresholds. Inspect and replace as necessary every spring and fall.
CENTURY 21 Action Plus Realty built its success one satisfied customer at a time through integrity, professionalism, and commitment to quality service. We look forward to working with you for all of your real estate needs in Central New Jersey and adding your name to the list of satisfied customers. Contact us today!